MARKETING PR TO CRISIS COMMUNICATIONS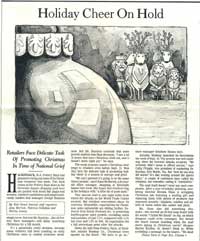 Awareness Building Campaign For Upscale Shopping Center
Riverside Square, an upscale shopping center in one of the most affluent counties in the nation, offers shoppers an experience that is anything but ordinary. Among the shopping center's 70 specialty stores are Bloomingdale's, Saks Fifth Avenue, the largest Pottery Barn in the country, Tiffany & Co., and many other top names in fashion and home style.
Riverside Square selected Caugherty Hahn Communications, Inc. in a multi-agency search to create and implement a communications campaign that includes marketing public relations, crisis communications, and community relations, while driving traffic to the shopping center.
One week after being retained, the terrorist events of September 11 occurred, prompting Caugherty Hahn Communications to devise a plan to cement the bonds between Riverside Square, its merchants, and the surrounding community.
Through the United We Stand Wall of Hope project, retail employees and shoppers were given an outlet to express their grief and patriotic sentiment, while rallying together as a community. Donations were collected for the American Red Cross, and a dozen community leaders were present to share their remembrances and hopes for the future.
During the holidays, the community once again came together at Riverside Square to support two local non-profit organizations. A blood drive in partnership with the Bergen Community Blood Center, a pledge made in September 2001, will once again reassert Riverside Square's place as a valuable corporate citizen, and contributing member of the community.
CHC has also positioned Riverside Square as a resource on trends in fashion, home decoration, and shopping, as well as the pulse of the community on topics ranging from "Blue Laws" to consumer confidence.
In less than five months, the shopping center has been featured on:
The front page of the Wall Street Journal's Marketplace Section


CNBC broadcasted entire Christmas Eve retail shopping updates from Riverside Square


Gifts selected by Riverside Square were featured on ABC's Good Morning America on Christmas Eve


CBS Evening News featured Riverside Square on New Year's Day


WABC, WCBS, News 12 NJ, NY Nightly News, WWOR and WB Channel 10 aired segments showcasing Riverside Square and shopping trends


Dozens of local weekly newspaper stories covered Riverside Square Riverside Square was featured 10 times on the front page of The Record, Shopping section, the leading daily newspaper in the area, 4 times on the front page of the Business section, and twice on the front page of the paper The equivalent advertising value of all placements during this period exceeds $3,000,000, and includes more than 50 print stories, and more than 40 television segments.
---
To discuss how Caugherty Hahn Communications, Inc. can put the power of Public Relations to work for your company, you can reach us at 201-251-7778, or send an email to lisa.hahn@chcomm.com.